HOOP 10 Teams
Learn about HOOP 10 Teams are organized!  Sponsors by 10 Sports!
2023 HOOP 10 PLAYERS/FAMILIES INFORMATION:
HOOP 10 2023 COMBINE:
FEBRUARY 5, 6, 7 – 2023
SUNDAY CLINICS 2023: 
January 8, 15, 22, 29 & February 12, 19, 26 – 2023
Players trying out for HOOP 10 Spring and Summer HOOP 10 teams are highly
encouraged to attend Sunday Clinics – Click here to register for Sunday Clinics!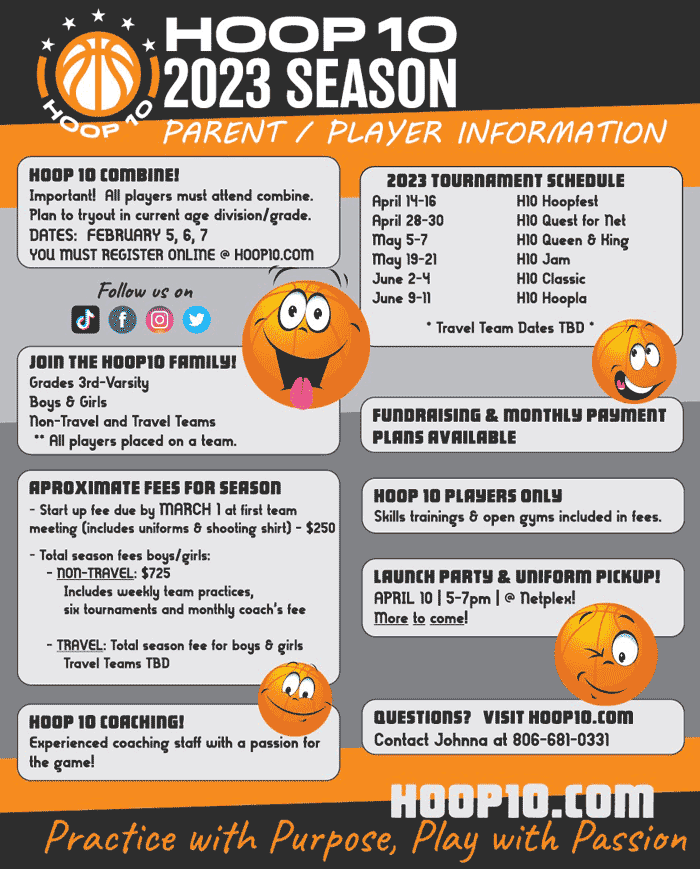 Travel Teams
If you have played on a HOOP 10 Travel Team in the past, please attend Travel Team tryouts. Players may also be invited to Travel Team tryouts. Please contact HOOP 10 IMMEDIATELY if you are interested in attending Travel Team tryouts!
To be eligible for Travel Team Tryouts, players must attend HOOP 10 Sunday Clinics in January and February. Then, don't miss the IMPORTANT PARENT MEETING after Sunday Clinics held every year!
Adidas Travel Teams will receive extreme national exposure playing in Adidas and NCAA sanctioned tournaments across the region.
"Adidas 3 Strip" Girls Travel Teams will be issued Adidas gear including new uniforms, shoes, socks and bags.
Non-Travel Teams
Non-Travel Teams will be organized very much like Non-Travel Teams in previous seasons. Players must participate in "Non-Travel Teams" tryouts. Teams will be formed based on age and ability and assigned coaches for practices and six local tournaments.
About Hoop 10 Teams
HOOP 10 Basketball provides 3rd Grade – High School girls and boys of all ability levels the opportunity to play on teams throughout the spring and summer months.
Teams will have 2 practices per week:  1 Team practice and 1 Skills practice.
Non-Travel Teams:  Developing teams play in local HOOP 10 Tournaments.
Travel Teams:  Advanced teams play in local HOOP 10 Tournaments as well as national events throughout the country.
Sunday Clinics:  All athletes who plan to play on HOOP 10 Teams in the spring and summer should attend Sunday Clinics in January and February in Amarillo!
Players must alo attend tryouts.  Tryouts will include skill work, position evaluation and game play.